Pump It Up and BounceU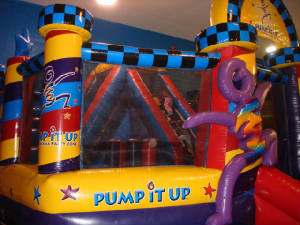 Franchise Interviews meets with the Pump It Up and Bounce U franchise
Marty McDermott: We have a great show today. We're meeting with Lee Knowlton and he's the president and CEO of PIU Management LLC, which is the parent company of Pump It Up and BounceU (which you and I are very familiar with). Hey, good morning, Lee. Welcome to the show.
Lee Knowlton: Good morning guys. How are you doing?
Marty McDermott: Oh, great. Joining us is my co-host Don Johnson.
Lee Knowlton: Hey, Don, how are you doing?
Don Johnson: Doing great. We've spoken in the past and I was saying earlier that you have a real fun franchise. My twins just turned five and we went to a local BounceU and they had a great time. It was a home run for us.
Lee Knowlton: Thanks for the business, we appreciate it. It's an incredibly fun experience both for the kids as well as the parents. So much to do in the stores. It's tremendous.
Don Johnson: Yeah, it is. It's a wonderful concept.
Marty McDermott: Where are you calling from this morning?
Lee Knowlton: I'm at our home office here in Tempe, Arizona.
Marty McDermott: Great. I saw your resume. It was quite long. We were both very impressed. What were you doing before joining PIU Management?
Lee Knowlton: I was actually with Kahala Corp, which is the holding company of 12 different brands. Most people know the Cold Stone Creamery, Blimpie, Taco Time brands. There were 12 different brands with about 3700 stores, including about 300 internationally. So, a very nice size company. I was the chief operating officer that was responsible for overall operations in marketing and training both domestically and internationally.
Don Johnson: How about before that? Did you have a background in franchising?
Lee Knowlton: Yes, one of my longer stints, 11 years, I was with the TGI Friday's group and was both on the franchisor side and on the franchisee side, also both domestically and internationally. I opened their first TGI Fridays in Seoul, Korea, and actually lived over there. And opened the first couple of Fridays in Korea which was a great experience. Then I was with the NASCAR Concept for five years which was kind of a racing simulator experience which was a lot of fun, very interactive much like BounceU and Pump It Up before I joined Coldstone and then Kahala starting in 2003.
So, basically I've been in franchising all my life either on the company side or on the franchisee side. I've been in the hospitality industry which is really restaurants or retail or entertainment since I was l5--over 30 years.
Don Johnson: It's kind of funny that you've had that overall theme of pretty fun concepts--Coldstone ice cream, I'm a big fan of Blimpie's. I go there all the time locally and now you're with Pump It Up and BounceU. Even TGI Friday's is kind of a fun concept when the employees get involved and with what they do with birthday songs and everything.
Lee Knowlton: Yes, there's definitely been a common theme there. Back when I was with Friday's back in the '80s, it was really known as the category leader as far as casual dining and the bartender flair and interacting with the customers a lot. And with NASCAR and a very fun race simulation and with Coldstone, singing in the stores. Now with Pump It Up and BounceU experience, it's certainly one I'm attracted to and am fortunate to work with such fun experiences. Honestly, that's really part of my makeup. I think it's really important to enjoy what you do and to be passionate about your job. Both with Pump It Up and BounceU, how can you not have a fun time in the stores and we have such great franchisees. It's been a joy. I'm in my first month here.
Don Johnson: Tell us a little of the history of Pump It Up and the recent acquisition and merger of the companies.
Lee Knowlton: Pump It Up was founded in 2000 up in Pleasanton, North California. It really started out as one of those great stories of a single store opening up with this great experience and then realizing others enjoyed it. So it slowly grew over the years and started franchising, I think, in its third year in 2003 and found that many others shared this passion of offering these private birthday parties that can be all-inclusive. It can take stress off the parents. They don't have to plan everything and what's going on. And realizing we can do all that and you can have your own private area both to celebrate the actual birthday and then go into one of our arenas or stadiums where you can bounce around and have fun with the focus being on the birthday child and their friends versus in other areas you're kind of thrown into the masses and you're amongst everyone else in the venue. While there may be nothing wrong with that, we offer a much more private, fun experience that can focus on the child and all that.
It started with Pump It Up and then BounceU started a couple of years after that. BounceU actually started in [Feelgood] Arizona, and started to grow in a similar fashion nationwide. Then in the middle of 2007 or so the holding company Pump It Up LLC purchased BounceU and really brought the two together forming the largest (really category leader) inflatable indoor markets. We now have the two brands that are run separately. Both have dedicated operations in marketing and PR and we share some like accounting and legal between the two. Each brand is supported independently as far as their operations and marketing and we're focused on supporting them and growing both of them in the future.
Don Johnson: No business is simple, of course, but (myself being self-employed for 19 years) when I go to a business I've never seen before I'm looking at the overall structure and theme. It seems like it's pretty simple overall. There are a couple of rooms where the inflatables are and a separate area where the food and birthdays are. It seems like a nice, tight, simple business which I guess is why it was a very "franchisable" concept.
Lee Knowlton: It really is. We have great processes and systems as a franchisor, as far as supporting the franchisee and I think we can tighten those up even more and provide even better support and programs to help the franchisees grow their sales. But at the end of the day you can be very focused on tracking those folks looking to celebrate birthday parties and then working with them and adding birthday cakes, pizzas or goodie bags or special touches to enhance that party and then it really is insuring you have the right crew members appropriately trained to insure those folks have a great time.
The overall operations is certainly a little more simplified versus restaurant industry or even some retail experiences, which is nice as a franchisee then you can really focus on the customer and their experience and not worry about moving parts around you that some other businesses have within them.
Don Johnson: That's a good point, Lee. I know when we were planning the party, they take care of everything--from goodie bags, to planning, coordinating, we got pizza. It was real simple and nice and it was a good experience and our twins were all excited to wear their BounceU t-shirts to school the next day.
Lee Knowlton: We love that. I think that's one of the big things--the privacy aspect. The focus really can be on the birthday child and not on the masses. Then another one is that we can take the workload off the parent and allow the parent to have fun at the birthday party and the other parents that come.
They don't have to deal with all the stress of the invitations, who's cutting the cake and the pizza, who's doing what next. We also offer to keep who gave Johnny what gift and we can take those out to the car, as well. The parents have really found it's such a nice treat and they can enjoy these parties more because they're not as stressed out about all the details or they're trying to do it at home. They're having an inflatable brought to their house and they have to deal with all the stress of it being delivered and set up right, whether the weather is going to be good or not. Obviously in our stores, every day is a good day weather-wise and they know they're going to have a great time.
Don Johnson: So, how do you describe the franchise to a potential franchisee?
Lee Knowlton: We are the category leader as far as these indoor inflatable segment. We have these one of a kind indoor playgrounds with all these inflatables, including our customers' favorites: the obstacle courses, the slide the bounce houses; we have these great party venues that can be private; we have a great staff trained by our franchisees that can help supervise the food and beverage set up, clean up and all that we talked about. It's just a great overall entertainment experience. That's it from the consumer side.
On the franchisee side, they're in the business of having fun which is great. You're in a very positive experience throughout the day. People are coming in expecting to have a great time, with smiles on their faces and I think that helps the business, as well. Our franchisees are focused on more of the day to day operations, insuring that everything is smooth and they're networking with parents who attend parties working in the neighborhood communities,, who work in fundraisers and specialty events and our owners do a lot of charity events in their local communities which is something we're really proud of. And they're proud of giving back to the communities. From a franchisee perspective, I think you're focused on the overall operations, being involved with the community and insuring your guests have a great time.
Don Johnson: Which is a great selling point, obviously.
Lee Knowlton: And another thing we've really been working on this year, and I certainly want to keep driving, is while we are certainly a great birthday party destination we have so much more to offer and some programs that we've rolled out that are typical Monday-Friday days of things that are jump and auditor? and Pop and Play that are more of the structured play offerings that you might find in a daycare or a camp where you can bring in a child or two or three or be part of a camp of 8-12. You'd come into our camp and learn how to draw, do some art and then bounce around for half an hour and then come back and go back to the art. It's a nice little education thing we offer the kids of all ages.
So they can really come to our facilities not just for a birthday event but for team building events that we offer corporations that we call Open Bounce or for Pop and Play, where in the summertime if your child is getting a little squirmy in the house you can stop by one of our stores and for $6 they can bounce around for an hour and let off a little steam. So it's a great activity for the child, especially in the summertime if they're getting a little house fever they can get out and have some fun and it's great for the parent as well. I think that's a unique thing in the business that we're really stressing and focused on in the future while our core experience really is the private birthday parties we have other great structured programs that our franchisees can offer guests to help build their business, as well.
Don Johnson: It's great exercise for the kids, too.
Lee Knowlton: It's healthy, too. It's a great release, an energy burner and it's fun in our stores when the parents get involved and bounce around and they wind up having a blast, as well.
Don Johnson: One of the questions we've been asking recently on the show is has technology played a role in your business whether it's your internet or intranet.
Lee Knowlton: Oh, absolutely, from many different angles. Really in the store your operator is really involved with technology as far as the system and booking parties and that being tied into our point of sales system so you obviously know exactly which parties are coming in and what areas are booked or not, what's available or not.
Certainly from a marketing perspective, we're always enhancing our website to make sure we've got the latest information up. If you're Google searching kids' birthday parties, BounceU or Pump It Up is always popping up right at the top there, so we're always working with a couple of search engine optimization folks to insure we've got the right words and keywords in our website to make sure we pop up in those types of searches. I think the average consumer today is certainly using the internet a lot more especially for researching birthday parties and such. So we want to make sure we're popping up front and center and when they go to our website they can see the great packages for parties that we offer and the other programs. We have sites on Facebook and such that are really helping to promote the brands, and just taking advantage of that technology, as well. It's certainly an integral part and will continue to be so moving forward.
Don Johnson: Are there any numbers on the industry? I guess it's in the billions.
Lee Knowlton: As far as entertainment?
Don Johnson: Yeah, the children's entertainment industry.
Lee Knowlton: It certainly would be. It's a broad category. We really focus on the private birthday parties and the privacy aspect again is a real differentiation in our experience, but if you look at the whole industry I think you can roll in things like Chucky Cheese and Bright Alleys and certainly other indoor and outdoor inflatables. I haven't seen a number myself, but I'm sure it's a multiple billion dollar business. We'll do a $100 million in sales this year just between our two brands and while we're certainly the category leader, there are certainly other brands out there that you can certainly pull into this arena when it comes to celebrating children's birthdays.

Bounce U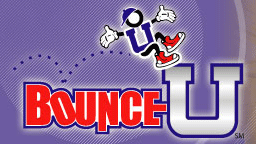 Franchise Interview with Bounce U and Pump It Up
Marty McDermott: Today we're speaking with Lee Knowlton who is the new president and CEO of PIU Management LLC which is the parent company of Pump It Up and BounceU franchise brand with a total of 220 locations nationwide.
Don Johnson: Lee, what type of characteristics do you look for in a franchisee?
Lee Knowlton: I think we love that great balance of passion both for the experience and customer experience, past experience (and I like it again in that customer experience world, whether it's retail, restaurants or entertainment) so that they've been involved someway or another interacting with customers and employing teenagers and young adults in the service industry, and the financial ability to properly open the business, support the business and grow it. So that combination of passion, experience and financial--the more you can balance those three, the more the likelihood you'll have a long-term success.
Don Johnson: In the first segment, we were talking about an article on franchisees once they're ready for their second unit. How does your franchise handle that?
Lee Knowlton: That's a great question and I think it's a really important step, as well, because there's such a difference in owning and operating one, two and especially three and beyond. That really passionate franchisee who's operating a business when they take that next step often find its challenging and they're trying to go back and forth between the two and it's really that third then that they realize they really need to work with their people then and allow the people to manage the stores since they can't physically be there any more. So we're really making sure that the franchisee understands that scenario and change and that they're prepared for it both manpower-wise and they've got the right store manger in their current existing store that can handle the business as they manage No. 2 and 3, and that they have the correct mindset that they can no longer be there day to day they need to let go and empower their store manager; and financially they are set up and ready to support that second and third store--not only getting it built but supporting it long-term and doing things in the community that they need to do and have the right marketing strategy that you need to have and that they've weighed all that out.
We'll take a look at the location and make sure it's not too close to their first store but maybe not too far which could also mean if it's five miles away and not twenty or thirty miles away that could put that strain on them of trying to manage two or three stores that are geographically so far apart. We'd love to grow our brands with the same franchisees that we have in the system today and it's definitely a philosophy I have 'let's open more stores with less franchisees so that we can strengthen the relationship. If they're passionate about the business and want to open another, we want to make sure we're growing with them versus constantly opening up other territories or growing with new franchisees. You're going to have a balance there, of course, but I'd certainly like to offer up first to our existing franchisees territories that are available and help them property set it up for long-term success.
Don Johnson: I imagine you have a great training program.
Lee Knowlton: Yes, we really do. It's a combination of both hands-on training here in our corporate office where we walk them through all aspects of the business from opening and operations to local store marketing, hiring, training, P&L, POS backgrounds, our systems and then it transitions to on-site support where we have a training team that will go out to that site and help them open that store, get them up and running help advise them again on the hiring and training and all the little things that come up during an opening and make sure that not only our field team is there for the support but they feel like they have our home office support, as well.
We can answer any questions that typically come up: the construction questions, licensing or permitting or getting that first POS system set up. So, we have a really nice system of hands-on training here in our office and then on-site core training when they open and after they open,, or course, we're visiting them throughout the year just to make sure the business is good and they're comfortable with it, and what questions do they have that we can answer so that they can grow their business.
Don Johnson: What's a typical day like for your franchisees--if there is such a thing?
Lee Knowlton: Saturdays and Sundays tend to be a little busier and Friday nights tend to be good nights for us, as well, whether they be birthday parties or special programs we're offering to our franchisees or doing some real creative things like glow-in-the-dark bounce parties where they actually turn off the lights on Friday night and have those glow-in-the-dark necklaces and it's more for teenagers who can bounce around and can have fun with strobe lights and almost a disco bowling? kind of environment. Certainly every day is kind of a different day, but overall it's that basic operations and making sure that everything is set up for the parties they have booked or the program.
And again they're involved with the community and any charitable events, especially any school fund-raising events are a great venue for that, and really focused on that customer experience. I'm a big fan of at the end of the day, I think consumers have changed their habits--they're more discriminating that ever, they're looking at how they're spending the money so that when they do decide to make the decision and book a party with us it should be the absolutely best party it can be because that word-of-mouth can really drive your business. That's something I've been talking about with our community and emphasizing at the end of the day that overall (what I historically call) operations excellence really counts. Every customer that comes in should really have a spectacular time. Fortunately, we have a lot of franchisees out there that are delivering it. They're not just stressed that in today's world every single customer counts so when they've booked a party with us we should make sure the party room is ready, it's laid out, all the special things are there, the crew members are all over them, the customers are bouncing around and having a blast, and we're wrapping that up all the way to taking the gifts out to the car for them and thanking them for the business and having a great time. As a franchisee, it's such a positive experience they've all said they love it when they see the smiles on the customers' faces, they're coming back and that's the real make-up of the day. There's always the basics behind the scenes if the accounting and payroll and all that, but at the end of the day it's really focused on the customers that are coming in.
Don Johnson: We're big fans, of course, and sometimes when you plan a kid's party sometimes there's not as many options as you think. It's great to have more concepts as options to go to kids parties. And I guess the way the economy is, I guess it's been good for the franchisee with leasing space. You don't always have to be in that prime space. Have the franchisees been getting some pretty good deals?
Lee Knowlton: They have. Our spaces are bigger than most--around 10,000 square feet total. We're not really looking for those power centers in shopping malls because they really wouldn't have the space and since we really are a more destination-type place, we can go to a more B-type location because we don't need the drive-by traffic and that allows us to have some leverage with landlords that we're taking a bigger space and maybe going to an area that not everyone's looking at. And in today's times, the landlords are very open, very willing to work especially with national brands. Ones like ours that are so positive and so fun. You really have to put together the right type of deal that's in everybody's interest long-term. We've certainly seen that over the last year or two as far as landlords realizing that. If you have a real nice national brand and a good presence, you should do your best to work with them to make sure they get the right type of deal to ensure they stay around for years to come and it really works for both sides.
Don Johnson: You've been involved in franchising for a long time, what advise would you give to our listeners--aspiring entrepreneurs looking to buy a franchise?
Lee Knowlton: You really want to do your research. You really want to do something you're passionate about, that you personally enjoy or feel that you can have some passion behind, make sure you check out that franchisor--what are their training systems, their support, what's their history, where are they in the category? There are a lot of business opportunities out there but are they all going to be around a year or two or three years from now? We certainly are. Do the research. Go to various stores and talk to franchisees. I've always encouraged any new franchisee that has come in--"what are you guys all about?" I would, obviously, tell them our philosophy but I would say call our franchisees and talk to them about how their overall business day-to-day, how do they feel about the franchisor and their support? Because at the end of the day, that's what really counts. Really encourage them to do that research because that's where they'll really flesh out the issues. I encourage all franchisees to spend a lot of time in that concept, talking to the franchisee because that's what you'll be doing. And don't get sold if someone's trying to tell you "it's incredible sales, it's a piece of cake and you'll make lots of money." Very few businesses are like that so you really want to make sure you understand the business, what you're getting into, the commitment needed, the financial resources, you're passionate about the business and you feel good about the franchisor. It's all in the homework.
Anyone interested in a Pump It Up and BounceU, I'd say exactly the same thing. I'd be confident we'd offer great support and services for our franchisees and such a great time. Encourage them to do their homework, that's for sure.
Don Johnson: Great advice.
Marty McDermott: What's the best way for our listeners to get more information on a franchisee? Any websites they can go onto?
Yeah, any of our websites. pumpitupparty.com and for BounceU, it's bounceu.com. Click on "about bounce" or "own a bounce" or "about pump it up." We have all the information listed.
Marty McDermott: I want to thank you again. You've been an incredible guest and we'd love to have you back in the near future.
Lee Knowlton: Anytime. My pleasure. Thanks a lot for the time, guys.