Great Play Franchise Interview
Great Play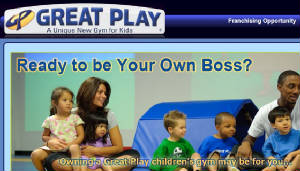 Franchise Interviews Meets With the Great Play Franchise Opportunity.
Today, Franchise Interviews is meeting with Keith Camhi, Co-founder, and CEO of the Great Play franchise opportunity: Great Play first opened in Stamford, Conn. in 2006 by fitness buffs Jyl & Keith Camhi. The franchised gym model for children provides fun-filled motor skill, sports skill and physical education classes for children ages six months through fifth grade as well as birthday parties. The business press has suggested Great Play "is an innovative concept in a fast-growing industry" (see Small Business Opportunities article).
The fitness industry is calling Great Play one of the most innovative brands in youth fitness worldwide (see IHRSA report). Parents are calling Great Play "a near magical experience" for their children, among many other wonderful things (see reviews). Find out more by listening to the show.