Alamo Drafthouse Cinemas Meets With Franchise Interviews
Alamo Drafthouse Cinema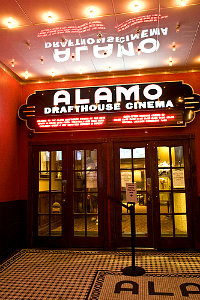 Franchise Interviews Meets With the Alamo Drafthouse Cinema Franchise Opportunity
The Alamo Drafthouse Cinemas has provided a unique combination of theatre and restaurant, showing first-run and independent films while offering in-theatre food and beverage service that includes an extensive menu of freshly prepared appetizers, sandwiches, pizzas and salads as well as a wide selection of hand-crafted beers and great wines.
The typical Alamo Drafthouse Cinema has four to ten screens that resemble traditional movie theatres except rows of seats alternate with bench-style tables. Individual theatre seating ranges from 75 to 320 seats. First-come, first-serve seating begins approximately 45 minutes prior to show time. Customers are encouraged to arrive early to enjoy the pre-show entertainment. Instead of a barrage of advertising, a variety of short films are shown that change on a regular basis, some with tie-ins to the feature film. "We're proud of the fact that we don't show any advertising," President and CEO John Martin said. "People don't want to pay for a movie and then be bombarded with 15 minutes of dancing candy and fountain drinks." Once seated, customers order from the menu and the friendly wait staff brings the food to their seats.
Customers can continue to order throughout the movie by writing their requests using the paper and pencils on their table and placing it on the clips attached to the table. Waiters quietly collect and deliver those orders without distracting from the movie. All tabs are closed before the film ends. Click the play button below to listen to the show.