Verlo Mattress Franchise Opportunity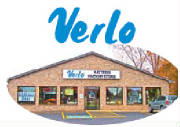 We are meeting with John Siipola of the franchise opportunity Verlo Mattress Factory Stores.
The cornerstone of Verlo Mattress Factory Stores rich history is its story. A story of tradition, integrity and Old World craftsmanship ...A story resounding customization and personalization ...And a story that only Verlo Craftsmen® can tell.
The thread of tradition woven throughout our Verlo Mattress Factory Stores family originated in 1958, with its founders, Guy Day and Dal.
Every Business Has A Story
In 1958, Dale Williams and Guy Day started making mattresses for their furniture store in Wheeling, Illinois. The mattresses were a bigger hit than the furniture, and soon became the focus of their business. Later, when they incorporated in Wisconsin, they renamed their mattress company by combining the first names of their wives, Verna and Lois. Click the play button below to listen to the whole story.