Franchise Interviews Meets with Marco's Pizza
Pat Giammarco moved to the States from Italy with his Parents when he was 9 years old.

Few years later, he worked at his Family Pizzeria with his father.

From there, the path was paved, he embarked on a mission to make the best pizza in the market place… of course with a little help from his Father's recipe.



From there, the first Marco's Pizza store opened in Toledo, Ohio in 1978.

Marco's Pizza® stores offer pizza, hot sub sandwiches, salads, and cheezybread for carryout and delivery.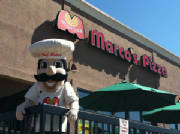 Franchise Interviews welcomes back Marco's pizza.
In part 1, we will meet with Tom Portesy, the President of Mart Franchise Venture Expositions --- the producers of franchise shows. Tom will talk about what can be gained in attending or exhibiting. In segments 2 and 3, we are meeting with Jack Butorac, the Chief Executive Officer of Marco's Pizza, and Kevin Wilkerson, Area Representative of Marco's Pizza. Headquartered in Toledo, Ohio, Marco's Pizza (Marco's Franchising, LLC) is the fastest-growing pizza company in the U.S. (based on the number of stores signed into development since 2007). Marco's was founded in 1978 by Pasquale ("Pat") Giammarco and is committed to making Ah! thentic Italian pizza with fresh ingredients. Learn more by listening to the show.