The E-Myth - Michael Gerber Transcript
Michael Gerber
Franchise Interview with Michael Gerber
Michael Gerber Interview By Dr. Martin J. McDermott
It was almost twenty years ago; I was introduced to one of the most enlightening books on entrepreneurship I have ever read. The E-Myth Revisited is one of the most successful business books of the twentieth century. It was voted the #1 business book by the Inc. 500 CEOs. It has sold several million copies, has been translated into almost 20 languages, and is recommended reading for many new franchise owners.
What is the E-Myth?
The E-Myth is the entrepreneurial myth"...the myth that small businesses are started by entrepreneurs. Many have been fooled into believing the tale that only entrepreneurs venture bravely to establish new businesses. But, most businesses are not started by entrepreneurs. Rather, the people who are technicians start them. People who make the fatal assumption that because they understand the technical work of a particular business (e.g. electrician, baker, web designer) means they can successfully run a business that does that technical work! This simply is not true.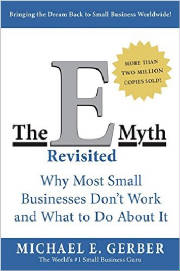 So, how do these technicians suddenly decide to go into business for themselves?
They become stricken with an "entrepreneurial seizure". Almost every technician started out working for someone else, working a job. The electrician worked for an electrician company, the baker worked for a bakery baking pies and donuts, and the web designer worked for a web design company. An entrepreneurial seizure occurred when, one day, for no apparent reason, a little voice said: "Why am I working for this guy? I know as much about this business as he does." At the very moment they were having an entrepreneurial seizure. In other words, not only did they hear the voice clearly...but they also felt the weight those words actually carried. They then knew they had to start a business of their own!
Lessons Learned from the Michael Gerber Interview
Speaking with Michael Gerber was an incredible honor. I found him to be extremely knowledgeable, enthusiastic, and very down-to-earth. His primary focus, in business and in life, has been to teach those "stricken with an entrepreneurial seizure" how to build and grow successful businesses.
Leader of the Turn-Key Revolution
Michael has been referred to as "the leader of the turn-key revolution" because he's made franchise business strategies available to business owners throughout the world, by emphasizing the importance of creating a business model that serves as a franchise prototype. If business owners can adopt this perspective, they can then create and implement powerful business system; they can create a true turn-key operation that will give them the money and the freedom that they were originally seeking when they decided to start their own business.
The single most important aspect of a franchise is its business model. While some people decide to build their business from the ground up, others prefer to invest in a franchise. Michael believes that prospective franchisees need to fully understand that the single most important aspect of a franchise is its business model. All too often, franchisees focus on the product as the compelling reason to buy a franchise. Michael stressed to me that successful franchises haven't secured market share simply because of their products...their business model is their product! McDonald's hamburgers aren't the reason that McDonald's is a phenomenal success. Rater, McDonald's compelling turn-key business systems (how to make a McDonald's Big Mac, French fries, etc.) are what makes McDonald's the phenomenally successful business that it its today.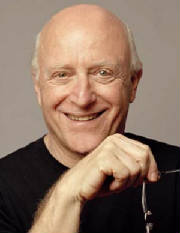 The brand alone won't bring success.
Franchisees must be able to work the systems contained in the business model if they are going to experience success in the franchising game. Having a nationally recognized brand won't ensure success if they aren't following the franchisors systems! Who would want to go to a McDonald's if the French fries and Chicken Mcnuggets weren't cooked to the McDonalds' standard...if the employees didn't wear uniforms with the McDonalds logo. The brand evolves out of these systems...the brand is determined by them.
Franchising
While Michael and I were on the topic of franchising, we were able to discuss a hot topic in the industry-the franchisor/franchisee relationship. Michael told me that all too often, the franchisees aren't putting the franchisors business systems to work. Their subsequent lack of success is then blamed on the franchisor. So, how is it resolved? How are these types of frustrations avoided?
Michael emphasized that prospective franchisees should look for a proven business model. Prospective franchisees need to make an informed decision when opting to buy a franchise. One problem is that what is often sold, as a franchise is not actually a true franchise system. Lots of business opportunities get lumped in the franchise category, even if they don't really belong there. This is one of the reasons so many franchisees experience frustration and don't succeed. The lack of a system and the frustrations that result only get duplicated within each franchise. The absence of systems for accounting, sales and marketing, management and administration wind up costing the franchisee money. So shop wisely. Ask franchisors about the business systems that are available to franchisees. Look for a proven business model- a business that works, predictably and consistently. Remember, you're in pursuit of the perfect turn-key business opportunity. Michael concluded that a mutual commitment between the franchisor/franchisee would ensure franchise success. Also, franchisees need to take accountability for operating the systems given to them by the franchisor.
Michel Gerber has worked with over 40,000 clients since starting his company in 1977. His unique brand of business development focuses on helping business owners create franchise prototypes-to set up powerful systems within their business. Systems so powerful that another could seamlessly operate the business without the owner's involvement. His company, E-Myth Worldwide, has expertly trained and coached franchisors and franchisees alike on their quest to build and utilize powerful business systems-to get the full benefits and results from their turn-key operations.
In conclusion, The E-Myth Revisited is a must read for anyone who owns or is considering owning a business. Over the past 40 years, Michael Gerber has evaluated over half a million small businesses throughout the world, and is the world-renowned expert on why most businesses don't work.
Michael's newest venture is called "In The Dreaming Room". In The Dreaming Room was inspired by Michael's mom. In The Dreaming Room is a place where entrepreneurs come to dream and create something spectacular. Michael stated, "A business without a dream is like a life without purpose!"
Thanks Michael! Click the play button below to listen to the interview with the legendary Michael Gerber.