Cartoon Cuts Franchise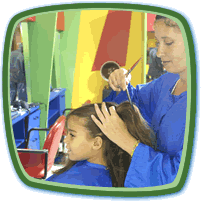 Cartoon Cuts Meets with Franchise Interviews

Franchise Interviews- What were you doing before becoming a Cartoon Cuts franchisee?
Al from Cartoon Cuts- I spent 14 years working in the telecommunications industry in various roles within sales, marketing, and customer support. My last position was Director of Marketing for Alcatel where I supported a number of very large key accounts including Verizon and Sprint. My business unit was responsible for selling Optical Transmission Products for North America.
Franchise Interviews- It must have been a very big change going from Corporate America to owning your own Cartoon Cuts franchise.
Al from Cartoon Cuts- Yes, you could say I went from high tech to hair. It has been a dramatic change for me. The telecommunications industry has been going through a real downturn in the last 5-7 years. Alcatel was downsizing and there were a lot of changes going on in the industry. I was not very happy the last year I was there and saw this as a good opportunity to get out and try something new. After my departure from Alcatel I spent the first six months looking for something I really wanted to do when I discovered Cartoon Cuts.

Franchise Interviews- Have you always wanted to own a business?
Al from Cartoon Cuts- I think like a lot of people, I always dreamed about being my own boss but either never had the opportunity or was afraid to venture out on my own. The changes at Alcatel really brought clarity to what I needed to do. I spent a majority of my career creating success and making money for someone else and I thought it was about time to try to do the same for myself. As a small business owner you are the key decision maker and you wear many hats. I was up for the challenge and I believed I had the skills to be successful. It's definitely a different environment than Corporate America.

Franchise Interviews- How long have you been with Cartoon Cuts?
Al from Cartoon Cuts- We have been open a little over 19 months. Prior to opening, I spent several months creating a business and marketing plan to make sure I understood what needed to be done. Moreover, I had to secure funding, identify the appropriate site, negotiate a lease, hire the right people, etc. etc. I would also like to add that the support I received from Cartoon Cuts - especially Jorge Salvat the President and CEO was terrific. Jorge and his staff were with me every step of the way.
Franchise Interviews- How has your life changed since becoming a Cartoon Cuts franchisee?
Al from Cartoon Cuts- It's changed in numerous ways. I don't have a typical 9 to 5 job anymore. As you are growing a business your time and energy is focused on the success of the business - you have to work hard and work smart - which typically means more time and more stress. Moreover, I am the one guy in charge of everything now. The ultimate responsibility for every decision resides with me. It's definitely a challenge and not for everyone.
Franchise Interviews- You wear many hats now?
Al from Cartoon Cuts- In my previous life, I could delegate tasks to other departments like human resources or accounting but now it's up to me to do everything. You really need to have strong time management skills to deal with everything. You also need to have a lot of perseverance. About the only thing I have not done is cut hair.
Franchise Interviews- That's an interesting comment. Time management and perseverance seem to be common traits of successful entrepreneurs.
Al from Cartoon Cuts- Absolutely, you have to be able to manage your time well. One suggestion I have for someone just starting their own business would be to learn how to say "No". This will save you a lot of grief. Sometimes if you let someone get their foot in the door it is really hard to get them to take their foot out. Regarding perseverance, the first six months were definitely the toughest because it was a new industry for me. The 12-month mark was a cause for celebration. After that, we focused on growth as well as streamlining costs and processes.
Franchise Interviews- It sounds like your sales and marketing background helped contribute to your success.
Al from Cartoon Cuts- Definitely. The time I spent working in customer service, sales and marketing gave me the strong business acumen to launch Cartoon Cuts. It gave me the solid foundation I needed to operate the business on a daily basis and allowed me the strategic vision I needed to grow the business.

Franchise Interviews- What other characteristics do you think make for a successful entrepreneur?
Al from Cartoon Cuts- If you have a family, you must have their support and understanding. I believe that is key. If you don't have patience, then you need to learn patience. You need to have faith that the next day or next month is going to be better. You also need wisdom and incredibly strong time management and organizational abilities. But first and foremost, you need the passion to succeed. It is passion that will get you out of bed every morning and provide you the strength to deal with the ups and downs of your business,
Franchise Interviews- What do you like best about being your own boss?
Al from Cartoon Cuts- In the first six to twelve months, I really didn't have a lot of flexibility. Now it's getting to the point where I have more flexibility with my schedule. I also enjoy being able to make changes as I see fit without the big company bureaucracy.
Franchise Interviews- Out of all the franchise opportunities available, why did you choose Cartoon Cuts?
Al from Cartoon Cuts- I did a lot of research before I chose Cartoon Cuts. I looked at a number of other hair care franchise systems. What I liked most about Cartoon Cuts is the fun and unique nature of the concept. They deal with kids primarily. Kid's hair cutting is a niche market. The Frisco area, where we my salon is based is one of the fastest growing cities in the U.S. Cartoon Cuts looks for areas with approximately 10,000 kids in a 5-mile radius. We chose our location in the Stonebriar Mall in Frisco because the demographics were off the charts. The hair business could be construed as recession proof because you need to get your hair cut every five to six weeks. You are getting these customers from the time they are infants until they are 12 years of age or older.
We also cut adult hair. The other thing that appealed to me was that Cartoon Cuts has 21 company stores on the east coast and is considered the innovator of the kid's haircut experience. They hadn't franchised in the United States but they had two franchise stores in Puerto Rico. When I looked at a lot of other franchise systems, they had very rigid operating requirements. A lot of franchise systems tell you exactly what is going to be done and how you are going to do it. Cartoon Cuts welcomed me into their family and allowed me the flexibility to make changes from store design and marketing to everyday operations.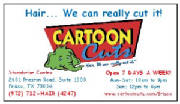 Franchise Interviews- That's interesting. You mentioned earlier that flexibility is something you don't get with some of the bigger franchise systems. There is basically no flexibility with big systems.
Al from Cartoon Cuts- Cartoon Cuts is in their infancy in terms of franchising but they proved they could operate their corporate stores. A lot of franchise systems start with one or two stores and immediately go into franchising. Cartoon Cuts decided after 13 years of operation to start franchising.
Franchise Interviews- Cartoon Cuts certainly has a long track record. Going back to something you said earlier Al; the market for kids is huge and that it makes sense to offer services to parents as well.
Al from Cartoon Cuts- We make it convenient for the child and the parent. We don't want to lose track of what our primary business is - our niche is kids but all of our stylists are licensed cosmetologists. Prior to working for Cartoon Cuts they all have worked in either full service salons or traditional hair cutting salons catering to adults as well as children.
Franchise Interviews- How would you describe the Cartoon Cuts system?
Al from Cartoon Cuts- We focus on children 12 and under. Three quarters of our stores are in malls and the rest are in strip centers. The reason our stores are different than a traditional salon is our design concept is bright and colorful and geared towards kids. We have TV's and video games at every hair station. We have a video distribution system playing the latest cartoons and movies for the kids while they are waiting or being serviced.
Our signature item is our "Elephant Trunk Wash". We learned early on that shampooing a child's hair in the traditional manner with a chair and sink was not a fun experience for our little clients. Our concept allows the child to lie down on a comfortable bed while the elephant's trunk is used to wash the child's hair. We also offer a "Guest Paging System" for our clients in case there is a wait to be serviced. Our customers are provided with a pager and allowed to go venture into the mall. When their stylist is ready we page them to return to the salon. We value our client's time and our paging system allows them to do other things with it than waiting in our salon. So far as I know - this is a unique offering.
Franchise Interviews- I noticed you have an elephant mascot named "Ellie".
Al from Cartoon Cuts- Before I came on, we didn't have a mascot. I did some research for the company and we found a firm that designed our mascot. The mascot is an incredible marketing tool and it's good for branding the Cartoon Cuts name as well.
Franchise Interviews- How has the response been to Cartoon Cuts in your area so far?
Al from Cartoon Cuts- It's been very well received. We opened November
of 2003 and almost one year later, the reader's of DallasChild Magazine voted us the "Best Kid's Hair Salon" in Dallas. The Mall also has monthly retailer awards for the Top 10 retailers based on sales, customer service, and participation in mall programs. We have been selected a top 10 retailer five times since we opened (There are over 165 retailers in this mall). We have also won awards based solely on our customer service.
Click here for more information on becoming a Cartoon Cuts franchisee.