Franchise Interview with 1000 Degrees Neapolitan Pizza
1000 Degrees Neapolitan Pizza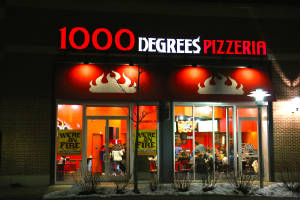 Franchise Interviews has a slice with 1000 Degrees Neapolitan Pizza
We are meeting with Brian Petruzzi of 1000 Degrees Neapolitan Pizza. Brian Petruzzi, is no stranger to the world of startups. At age of 11, he handled a 200 home newspaper delivery service, cut lawns in the summer and shoveled snow-covered Jersey sidewalks in the winter.

As a sophomore in college, Brian had amassed more than $2 million in revenue through different businesses - everything from movie rental stores and frozen yogurt shops to spray tan parlors and domain holding companies. But growing up in an Italian family, Brian always had a dream of opening a pizza restaurant just like his grandparents had in Naples, Italy.

With the extreme popularity of fast-casual pizza, Brian turned this into a reality in 2014 and founded 1000 Degrees Neapolitan Pizza. Serving customizable, authentic Neapolitan pizza on hand-tossed, never frozen dough and topped with more than 50 of the finest freshest ingredients, 1000 Degrees pizza perfectly captures American appeal and old world Neapolitan flavor. Each pie is familiar to New York style pizza, but maintains the light and airy appeal of Neapolitan style with a thin, slightly-charred crust.