Franchising the Lash Industry - The Lash Lounge
The Lash Lounge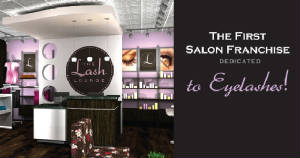 Franchising the lash industry at The Lash Lounge
We are meeting with Anna Phillips, Founder, and President of The Lash Lounge. The Lash Lounge, headquartered in Grapevine, Texas. The Lash Lounge was founded in 2006 and is the first franchise concept of its kind, specializing in the art of semi-permanent eyelash extensions and permanent make-up.

To add to the luxurious spa experience, each Lash Lounge location offers an assortment of beauty products and stylish ladies boutique items for customers to browse while they receive services by Lash Lounge's licensed technicians.

A broad training model has been developed by Founder Anna Phillips to ensure a visit to any Lash Lounge exceeds industry standards and customer satisfaction. The tried and true methods have been seamlessly replicated in each salon to make effortless glamour more convenient.

In part 2 we meet with franchise expert Karol Mercurio. Karol gives advice to aspiring frantrepreneurs. Click the play button below to listen to the show.